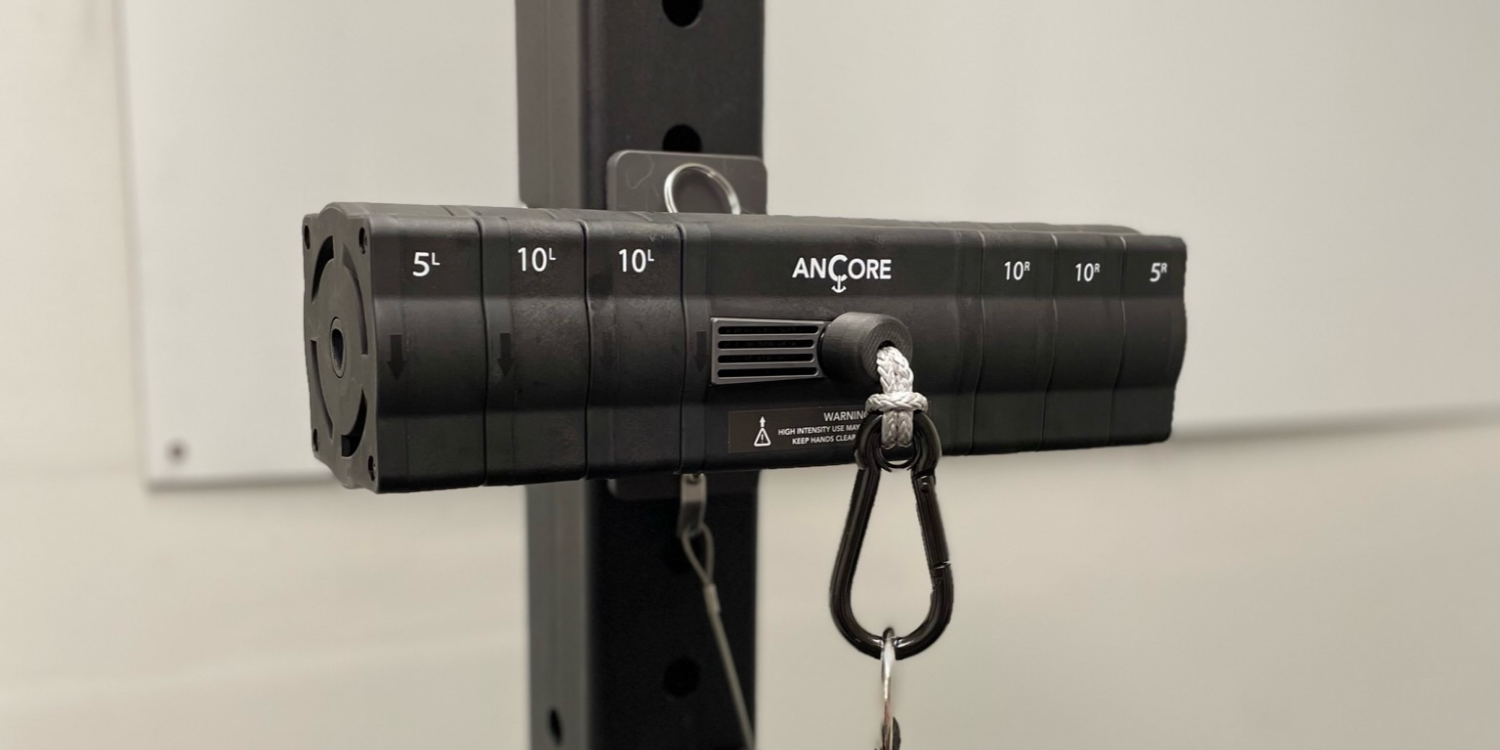 In the simplest terms, ANCORE is a first-of-its-kind, portable cable training device. And while the trainer itself is small in size, it packs a powerful punch when it comes to the impact it can have on one's space, programming, and quality of training. Let's take a closer look.
A True Functional Trainer Feeling
Unlike flywheel or inertial-based systems, ANCORE provides a true functional training experience. The secret? A proprietary spring-loaded torque mechanism. You'll find there is always tension on the cable allowing for concentric, eccentric, and isometric movements. Moreover, the resistance mechanism isn't dependent gravity which allows for everything from slow, controlled movements (like those found in many physical therapy settings), high-speed, explosive movements (like those found in many sports performance settings), and everything in between. Because of this, most of our community members compare the resistance experience to a pneumatic system.
Pound-for-Pound Value

Fully loaded (with three resistance plates on either side), the ANCORE weighs about seven pounds and is no bigger than the size of a dumbbell. This makes it an ideal training device for those on the go, looking to maximize their current training facility, or wanting to bulk up their home gym without adding a cumbersome piece of equipment. We've heard many stories of customers and professional teams packing their ANCORE with them in a suitcase or backpack when they hit the road.
Above everything else, the ANCORE was designed to provide a high-quality cable training experience regardless of your space, circumstance, or unique training needs.
How Do You Adjust the Resistance?
Adjusting the resistance on the ANCORE is a central part of the training experience. Whether it's increasing the resistance just a little bit by adding a 5-pound plate or loading up for heavier movements by adding multiple 10-pound plates, the resistance plates are what makes the experience truly customizable. The range of resistance is 5 pounds to 65 pounds and can be easily adjusted in increments of 5 pounds and 10 pounds via our twist on/twist off plates system. 
How Long is the Cable?
The cable length goes up to 8 feet providing the space needed to perform a wide variety of movements.
Can I Go between the Different Mounting Options?
The universal mount interface on the back of the ANCORE enables it to seamlessly go between all of our different mounting options. All you have to do is remove the locking pin from the back of the device. So, when it comes to picking the right mount for your ANCORE setup, you can literally never go wrong. 
What Attachments Can I Use with My ANCORE?
The universal carabiner clip on the end of the device allows for a truly customizable training experience. Everything from tricep ropes to cook bars to straps are compatible with the ANCORE and can be added in a snap.
For Athletes of All Kinds
The ANCORE was designed with the athlete in mind, and we aren't just talking about the ones you see on TV. To us, being an athlete means continually and relentlessly striving to improve and live actively regardless of everything else. This is why we believe anyone can be an athlete and in the power of athletes of all kinds. 
Let's get training.
---