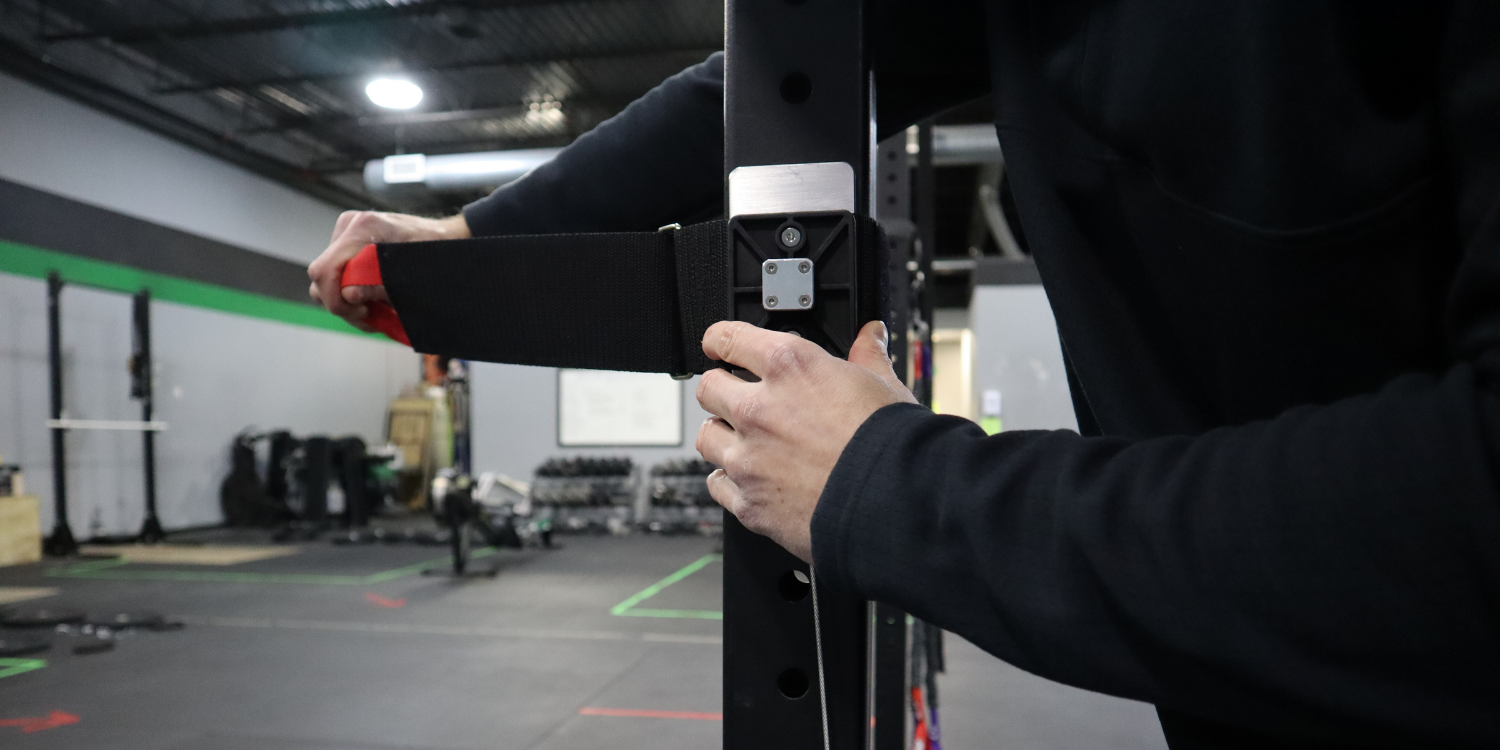 Tried and true, the Strap Mount is a favorite among members of ANCORE's community of athletes, trainers, and fitness enthusiasts. Though, with its ability to be mounted on everything from a squat rack, tree, post, and more, it's not hard to see why. Still, the mount's versatility is just one of several features that make this the preferred portable mounting option for athletes everywhere.
Built to Last
Used in some of the most performance-driven places on Earth, the Strap Mount is designed not just to meet but exceed expectations. The 3-inch-wide industrial Velcro strap provides a secure wrapping around the surface of the mounting fixture, and the rubber-lined aluminum plate helps to keep both the ANCORE and mount firmly in place for the duration of your workout. Because safety is always a top priority, the steel lanyard and clip provide an added layer of protection and ensure peace of mind while you train.
Attaching the Strap Mount
The process to attach the Strap Mount to a fixture is quick and comes down to three simple steps.
First, wrap the strap around the mounting fixture and secure the Strap Mount in place with Velcro. For the snuggest fit, pull on the red strap.
Second, take the steel lanyard and wrap it around the mounting fixture clipping the safety clip onto the lanyard. This will provide an extra layer of safety and allow for the best possible training experience.
Finally, align the back of the ANCORE with the mount interface on the Strap Mount and secure it in place via the locking pin. With the ANCORE now on the Strap Mount, you're ready to start training. If you want to adjust the Strap Mount up or down, loosen the strap and slide it into the desired position. 
Will the Strap Mount Work on My Squat Rack or Fixture? 
In most cases, yes. The Strap Mount works well on 3 in x 3 in, 3 in x 2 in, and 3 in x 4in squat racks. For non-squat rack fixtures, the optimal circumference is anywhere between 10 inches and 14 inches.
If the mounting fixture you have in mind is bigger or smaller than those dimensions, we also offer custom strapping that can be requested by emailing us at hello@ANCOREtraining.com along with the dimensions of the mounting surface you have in mind. Once received, a team member will help to get you set up personally.
---